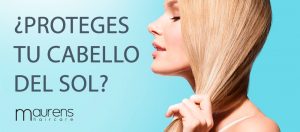 Do you protect your hair from the sun?
If you're worried about the damage that the sun can cause your hair, You have to read this post.
It is usually in the summer when we spend more time in the sun, Outdoor and therefore is when our hair suffers the consequences more. Although, like the face and body, we should use sunscreen every day throughout the year, It is in summer when more capillaries tend to use sunscreens.
a Maurens, within our line Keratin Concept, we have the styling cream Easy Comb Leave-in Cream, perfect to protect your hair from the sun. In addition to sunscreen, incorporates Keratin and vitamin b3, b6 and b7 returning the structure of your hair strength and facilitate hairstyle. Your hair will gain volume, body and shine above and will be protected from the sun, What more could you want?
Inside Line Keratin Concept, we have more products that are caring for your hair perfection. One that can also carry in your bassinet this summer is the Moisturizing Conditioner Biphasic, nourishes your hair instantly from the first application. Contains keratin and hyaluronic acid provide softness, shine and bounce to your hair. For application should be shaken to mix the two phases and not require rinsing.
'Our advice!!
'Take the two products in your beach bag for when you need sconces and you do not let the sun your hair eat!!
And around, You not have to cut both ends.
Ideally, apply styling cream before leaving home in the morning, and reapplied during the day. And every time you take a bath to untangle hair hydrated and have applied the conditioner, and again the hair sunscreen, like the body and face.
'We hope you have enjoyed our advice!!