[:es]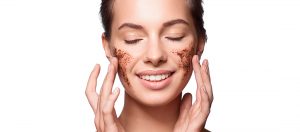 Do you notice your skin resents the effects of summer?
Es normal que durante el verano con el sol, the heat and humidity notice our different skin. Each skin type has needs, but it is a time in which we have to pay special attention to take care of it.
Las pieles secas pueden notarlas más secas, dado que el sol seca nuestra piel, y las pieles mixtas o grasas, pueden notar más grasa de lo normal porque con algunos protectores solares, tiende a salir más sebo en nuestro rostro.
Para tratar nuestra piel en verano, debemos realizar 3 Steps.
LIMPIAR
Es importante que limpies en profundidad tu piel diariamente. Aún más si te maquillas, debes desmaquillarte correctamente e irte a dormir con la cara sin nada de maquillaje. Dentro de nuestra línea tienes el Desmaquillante 3 in 1, perfecto para las vagas, porque de una sola pasada desmaquillas cara, ojos y labios.
EXFOLIAR
Es recomendable exfoliar tu piel a menudo, porque eliminas de una forma muy suave las células muertas, facilitando la regeneración de los tejidos. Si quieres tener una piel bonita y sana es uno de los pasos que debes seguir en tu rutina semanal. Para ello es perfecto el Gel exfoliante de Granada y Aloe Vera, que además de eliminar las células muertas, limpia la piel, reduce los poros y el exceso de grasa.
HIDRATAR
Como paso esencial y diario está la hidratación. Cada tipo de piel necesita una hidratación diferente pero debes mimarte como te mereces, y si quieres tener una piel perfecta, no puedes saltarte este paso jamás!!
Nuestra MULTI-NOURISHING CREAM. Rose Hip and avocado, resuelve ese problema estupendamente. Además mejora la tersura y flexibilidad de la piel previniendo la aparición de arrugas y estrías.
¡¡Nos vemos pronto!![:]