[:es]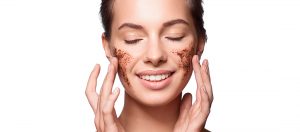 Do you notice your skin resents the effects of summer?
Es normal que durante el verano con el sol, the heat and humidity notice our different skin. Each skin type has needs, but it is a time in which we have to pay special attention to take care of it.
Dry skin can notice them drier, because the sun dries our skin, and mixed or fat skins, may notice more fat than usual because some sunscreens, It tends to come more fat in our face.
To treat our skin in summer, we must make 3 Steps.
CLEAN
It is important to cleanse your skin daily in-depth. Even if your makeup, desmaquillarte must correctly and go to sleep with the face without any makeup. In our line you have desmaquillante 3 in 1, perfect for vague, because in a single pass desmaquillas face, eyes and lips.
EXFOLIATE
It is advisable to exfoliate your skin often, because you delete a very gently dead cells, facilitating tissue regeneration. If you want to have a beautiful and healthy skin is one of the steps you should take in your weekly routine. This is perfect for the Granada exfoliating gel and Aloe Vera, besides remove dead cells, clean skin, reduces pores and excess fat.
HYDRATE
As an essential and daily hydration step is. Each type of skin needs a different hydration but you should pamper yourself as you deserve, and if you want to have perfect skin, you can not skip this step ever!!
Our MULTI-NOURISHING CREAM. Rose Hip and avocado, solves that problem beautifully. It also improves the smoothness and suppleness of the skin preventing the appearance of wrinkles and stretch marks.
See you soon!![:]